Johannesburg – South Africa's President Jacob Zuma has hinted he may be ready to take a fifth wife to accompany him through old age.
During a visit to a Durban township on Tuesday in Kwazulu-Natal, the 72-year-old said in Zulu:
"Angakayakhi indlu yokugugela… Laba ngisabathathile nje." (I do have wives but I'm yet to marry my last one).
President Jacob Zuma dances with his wife Bongi Ngema Add caption
The crowd, most of them elderly, laughed and cheered.
Zuma, who on Sunday said he was in "perfect condition" after a stay in hospital in June, had earlier given a speech about the need to respect and assist older people.
Sihawu Ngubane, a professor at Kwazulu-Natal University, was quoted as saying it was fairly standard among Zulu people for a man who practises polygamy to take a last wife for his last years, sometimes the younger sister of one of his wives.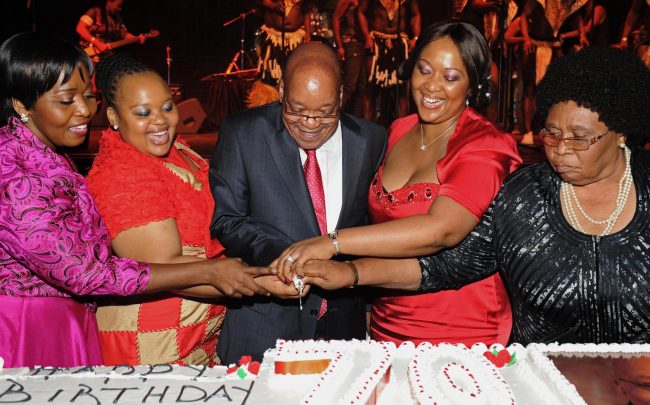 President Jacob Zuma and his wives
"They call the last wife 'indlu yokugugela' [the home in which I will age in] because the responsibility of looking after the husband in their old age predominantly lies with the junior wife, who is often younger than the other wives and more agile in case there is an emergency," he said.
Zuma, who has around 20 children, has married six times but currently has four wives on the state's budget, despite criticism from some tax-payers.
Source: AFP
Copyright © Real Info Zone.
All rights reserved.
Distributed by
Real Info Zone
Global Media (
www.realinfozones.com
). To contact the copyright holder directly for corrections — or for permission to republish or make other authorized use of this material,
click here.
Real Info Zone publishes around multiple reports a day from more than
40 news organizations
and over
100 other institutions and individuals
, representing a diversity of positions on every topic. We publish news and views ranging from vigorous opponents of governments to government publications and spokespersons. Publishers named above each report are responsible for their own content, which Real Info Zone does not have the legal right to edit or correct.
Articles and commentaries that identify Real Info Zone as the publisher are
produced or
commissioned by Real Info Zone.
To address comments or complaints,
Please Contact Us.