Nothing like a social media controversy to start off the new year.
In a series of Photoshopped Instagrams,
Madonna
seemingly compares herself to Martin Luther King Jr.,
Nelson Mandela
and Bob Marley.
More specifically, she has compared her "#rebelheart" to theirs by transposing her album artwork – which features her face crossed with black cording of some kind – onto their faces.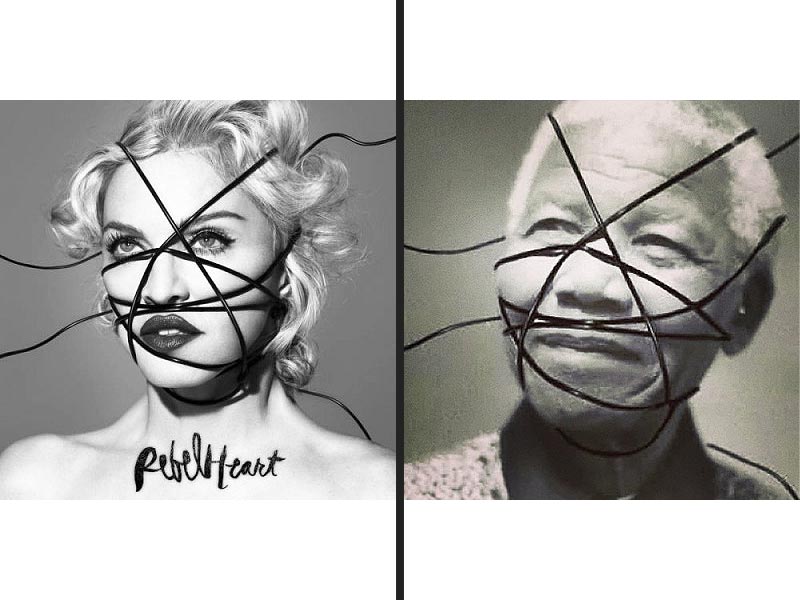 Add caption
Madonna on the cover of her album, Rebel Heart, and a Photoshopped image of Nelson Mandela
Interscope; Courtesy Madonna
"This #rebelheart fought for freedom!" Madonna captioned
the Instagram of Mandela
.
On MLK's photo
, Madonna wrote: "This #rebelheart had a dream!"
Finally,
on Marley's
, she wrote: "This #rebelheart sang about ONE LOVE!"
Madonna has her fair share of supporters, but for the most part, her Instagram has been overtaken by critics. "To lessen Mandela's and Dr. King's achievements as far as making their faces involuntarily a part of a marketing campaign for some irrelevant pop music is just a huge perception disorder," writes user
beate_abbey
. "I'm already unnerved by all this pictures with strings in people's faces. This despair is such a cringe factor. It's a pity."
"Officially lost a fan in me..." wrote user
elsiebowers
.
Rebel Heart has been plagued by a series of leaks (as seems to be the norm with any highly anticipated record, these days). In response, Madonna's team officially released six tracks on Dec. 20.
In a fairly prophetic Instagram, Madonna
posted the following
one day before her controversial snaps: "Dear haters, I have so much more for you to be mad at ... be patient!"
Copyright © Real Info Zone.
All rights reserved.
Distributed by
Real Info Zone
Global Media (
www.realinfozones.com
). To contact the copyright holder directly for corrections — or for permission to republish or make other authorized use of this material,
click here.
Real Info Zone publishes around multiple reports a day from more than
40 news organizations
and over
100 other institutions and individuals
, representing a diversity of positions on every topic. We publish news and views ranging from vigorous opponents of governments to government publications and spokespersons. Publishers named above each report are responsible for their own content, which Real Info Zone does not have the legal right to edit or correct.
Articles and commentaries that identify Real Info Zone as the publisher are
produced or
commissioned by Real Info Zone.
To address comments or complaints,
Please Contact Us.