The 73rd annual Golden Globes Awards kicked off with a predictably astringent opening monologue from Ricky Gervais, who happily played the part of beer-sipping villain to the starry crowd that he labeled 'pill-popping sexual deviant scum.'
"I want to do this monologue and then go into hiding. Not even Sean Penn will find me," he said, pausing for a swig. 'Snitch.'
Sylvester Stallone won best supporting actor for the 'Rocky' sequel-reboot 'Creed.' It was his second nomination for the character, having been nominated 29 years ago for 'Rocky.'
"I want to thank my imaginary friend Rocky Balboa for being the best friend I ever had," said Stallone, who received a standing ovation.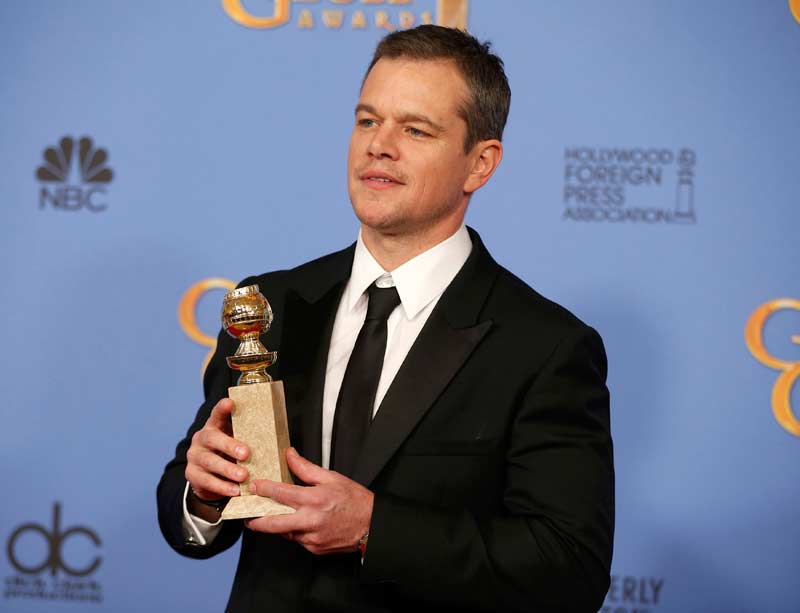 Matt Damon with his Golden Globe Trophy.
The first win of the night Sunday was a slight surprise, with Kate Winslet winning best supporting actress for the Aaron Sorkin-penned, box-office dud 'Steve Jobs.' Winning her fourth Globe in 11 nominations, Winslet triumphed over the lauded Alicia Vikander for 'Ex Machina,' though Vikander is also contending for best actress in 'The Danish Girl.'
Citing the crowded categories, Winslet remarked: "What an incredible year for women in film."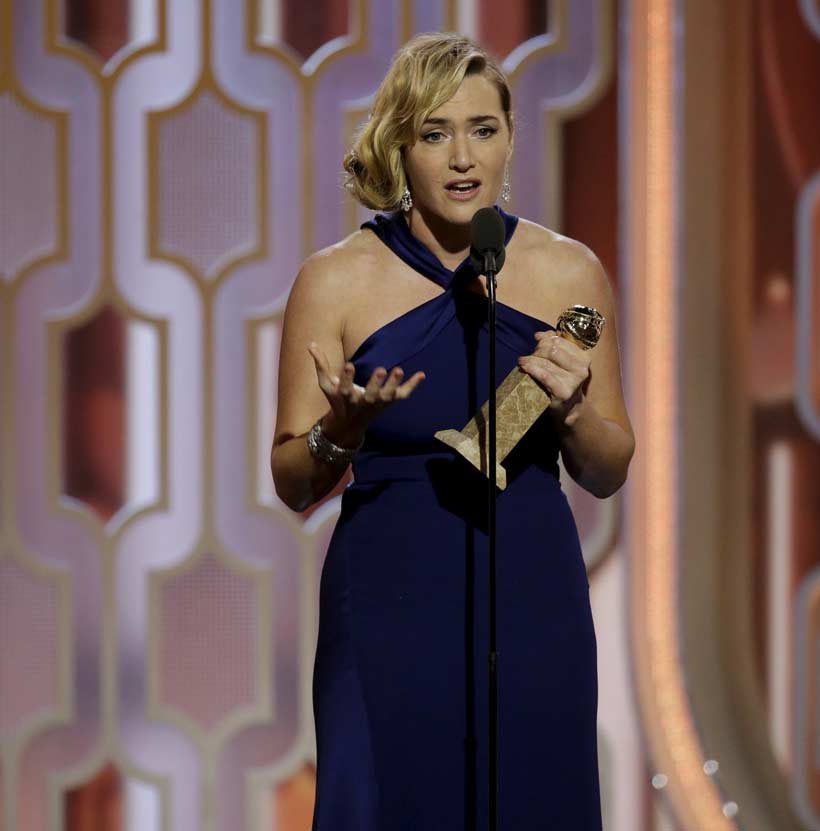 Golden Globes 2016: Sylvester Stallone, Matt Damon, John Hamm, Kate Winslet are big winners
Though security was especially tight to guard against terrorism, the Gervais-led Globes, evidenced little of seriousness that marks most award shows, or the teary-eyed acceptances speeches. Instead, the Globes had a particular madcap atmosphere that included Jonah Hill dressed as the bear from 'The Revenant,' copious discussion of "Transparent" star Jeffrey Tambor's male anatomy, and much buzzing about Penn's escapade with Mexican drug kingpin Joaquin 'El Chapo' Guzman.
In an election year, Gervais had the only cutting political remark in the show's first hour. He introduced presenters Eva Longoria and America Ferrera as two talented actresses that "your next president, Donald Trump, can't wait to deport."
Matt Damon won best actor in a comedy for his performance in Ridley Scott's nerdy sci-fi hit 'The Martian.' The film was competing in the comedy category, a questionable classification by the Hollywood Foreign Press that Gervais was particularly keen to mock.
Damon, who earlier in the night appeared withered by Gervais' introduction as "the only person who Ben Affleck hasn't been unfaithful to", said the film's success was a rare pleasure: "I've made a lot of movies that people just didn't go see."
Jon Hamm won his second Globe for the final season of "Mad Men." He thanked the HFPA for the support to their long support of the show and his character, Don Draper.
Quentin Tarantino accepted the award for Ennio Morricone's score for his "The Hateful Eight" _ a winner that presenter Jamie Foxx initially read as "Straight Outta Compton" in a parody of the Miss Universe winner debacle.
Oscar Isaac, a star of the box-office behemoth "Star Wars: The Force Awakens," won best actor in a miniseries for HBO's "Show Me a Hero." Best limited series went to "Wolf Hall." Christian Slater took best supporting actor in a TV series for USA's "Mr. Robot."
Gervais, in his fourth time hosting, spared little time before laying into the HFPA and the awards' network, NBC, which he noted had no nominations. He mocked the whole enterprise, assuring losing actors that "no one cares about awards as much as you do."
The Globe award, itself, he said, is "a bit of metal that some confused old journalist wanted to give you to meet you in person and take a selfie." One of his three Globes, Gervais said, he stuffs up his rear.
T hat didn't stop Winslet from an exuberant acceptance speech, nor did it mute early winners Rachel Bloom (best actress in a TV series comedy for 'Crazy Ex-Girlfriend') and Maura Tierney (best actress in a series, limited series or TV movie for "The Affair"). Best comedy TV series went to Amazon's "Mozart in the Jungle," which won over the HBO heavyweight "Veep."
After a 10-year ratings high three years ago, the Golden Globes' viewership has dipped slightly since, with an audience of 19.3 million tuning in last year.
That, though, is still very strong for the Golden Globes, which have worked to shed an image of eccentric selections made by a group of little-known international journalists. The Globes have instead grown into one of the most popular award show broadcasts of the year, thanks to increasingly credible nominees, its trademark relaxed atmosphere and its unique position as a major awards show that honors both film and television.
The Indian Express
Copyright © Real Info Zone.
All rights reserved.
Distributed by
Real Info Zone
Global Media (
www.realinfozones.com
). To contact the copyright holder directly for corrections — or for permission to republish or make other authorized use of this material,
click here.
Real Info Zone publishes around multiple reports a day from more than
40 news organizations
and over
100 other institutions and individuals
, representing a diversity of positions on every topic. We publish news and views ranging from vigorous opponents of governments to government publications and spokespersons. Publishers named above each report are responsible for their own content, which Real Info Zone does not have the legal right to edit or correct.
Articles and commentaries that identify Real Info Zone as the publisher are
produced or
commissioned by Real Info Zone.
To address comments or complaints,
Please Contact Us.